Each year, car manufacturers are coming out with more and more safety features. These enable you and your passengers to have a better ride wherever you have to go without getting hurt. One of these features is Toyota's Pre-Collision System. But what do you do when one of these features malfunctions?
In this article, we are going to discuss how to reset Toyota Pre-Collision System warning light.
How Does Toyota's Pre-Collision System Work?
Toyota's pre-collision system is part of their Safety Sense package.
A Toyota model with the Pre-Collision System has a front-facing camera with an invisible laser. The camera can be found on the internal mirror in the back.
The radar is located underneath the license plate number behind the front grille. It will measure the distance between your vehicle and whatever object is right in front of your vehicle.
The pre-collision system will take your speed into account to decide if a collision is expected to occur. If it identifies that a collision is more than likely to occur, your vehicle will dispatch an alert to let you know of the danger.
Once you hear this, you will want to apply the brake as soon as possible.
If the alerts do not alert you to slow or stop your vehicle, the Toyota Pre-Collision System may apply the brakes automatically or utilize them at full force with brake assist.
At What Speed Will Toyota's Pre-Collision System Work?
Radar is used to detect a crash that may occur. The Toyota Pre-Collision system hones in on when there is a difference within 38 miles per hour. Due to this, crashes that are unavoidable are likely to be less severe
What Problems Might the Toyota Pre-Collision System Have?
There are a few issues that the Toyota Pre-Collision System could have.
Some individuals may have issues with it if there are dirty sensors or if they are blocked by snow. This is super common and easily fixable.
Make sure the camera area is clean at all times. You can do this by washing your Toyota more often or simply by just cleaning the area where the camera is located.
There are times when keeping the cameras and sensors is not enough. You may have to replace the sensors if they go bad.
Any common issue for the Toyota Pre-Collision is having a tow hitch installed. When a tow hitch is installed, it can mess up the computer system, thus giving issues with the Pre-Collision System.
A faulty airbag sensor may also be an issue that will give your Pre-Collision System fits. Check this out and replace any sensor if you notice anything out of the ordinary.
Rodents are also a huge concern of car owners. If you live in an area where small creatures, such as mice, rats, and other animals that like to chew are present, you may find there is damage to the wiring in your car.
If you have noticed rodents taking a liking to your car, you can find rodent sprays to discourage them from chewing. 
How To Spot a Malfunction in the Toyota Pre-Collision System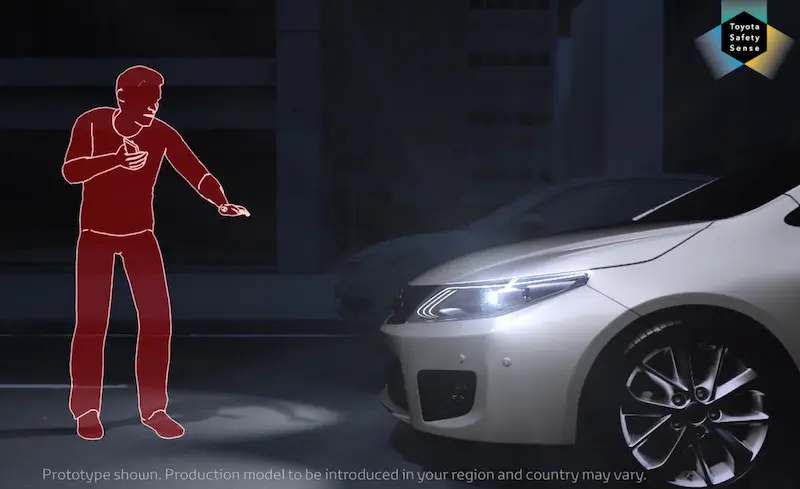 There are different things that you can keep an eye on to determine if there is a malfunction in the Pre-Collision System.
If you see the FCW error, this is a crystal clear warning that something is not right. You need to take your car to the dealership right away.
Likewise, if you notice any lights have turned red, a check-up is also needed. These red lights signal something is wrong and you need to stop and get it taken care of before it winds up seriously hurting someone or damages your car more.
Which Toyota Models Offer the Pre-Collision System?
There are many models of Toyota vehicles that have the pre-collision system offered.
Cars and Hatchbacks that offer the pre-collision system include the Avalon, Avalon Hybrid, Camry, Camry Hybrid, Corolla, Corolla Hybrid, Prius, Prius Prime, Prius c, and Yaris Hatchback.
Crossovers, SUVs, and Minivans that offer the pre-collision system include the C-HR, Land Cruiser, Highlander, Highlander Hybrid, RAV4, RAV4 Hybrid, Tundra, Sequoia, Tacoma,4runner, and Sienna.
Other systems that are offered as part of the Safety Sense package include:
Pre-Collision System with Pedestrian Detection (PCS w/PD)
Automatic High Beams (AHB)
Lane Departure Alert with Steering Assist (LDA w/SA)
Dynamic Radar Cruise Control (DRCC) or Full-Speed Range DRCC
Lane Tracing Assist (LTA)
How Do You Turn On Toyota's Pre-Collision System?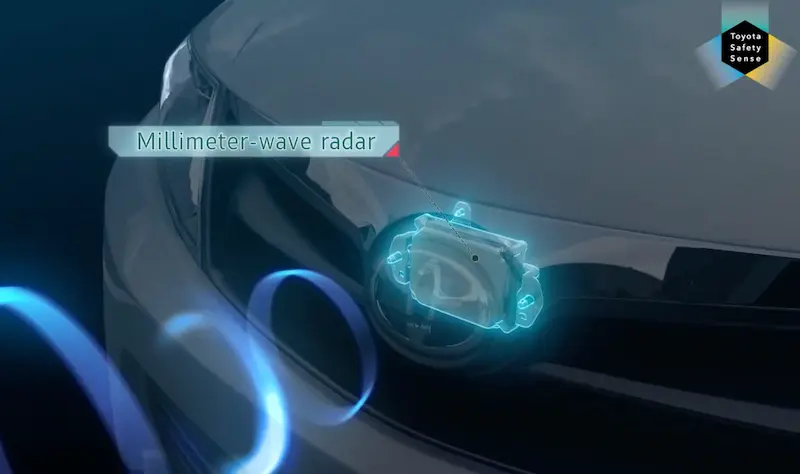 If you need to turn on Toyota's Pre-Collision System, follow these instructions:
Turn the key so it is in the "On" position.
In the middle of the instrument panel, you should see a multi-information display.
Using the arrows on your steering wheel, go down to find "gears".
You should see an icon that resembles a car crashing into the backside of another car.
Using the middle button that is surrounded by the arrows, depresses select. This will turn the pre-collision system on and off.
You may hold this button to adjust any of the settings of the pre-collision system.
How Do You Test the Toyota Pre-Collision System?
If you feel that your Toyota needs to be tested, contact your dealership or mechanic to see if there are any tests that they can do on the Pre-Collision System.
What Should You Do If The Pre-Collision System Light Comes On?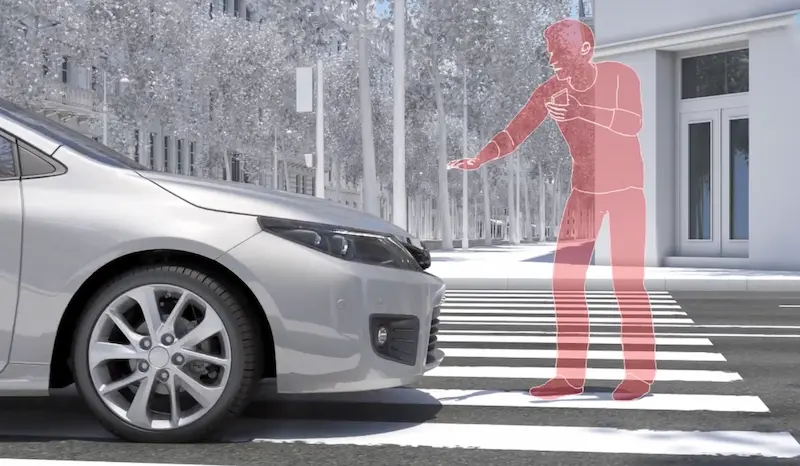 If you notice that your Toyota Pre-Collision System light or Check PCS System message comes on, you should contact your dealership or mechanic right away. If you ignore this warning, an accident may occur. The light will indicate that there is a malfunction in the PCS.
The light will flash for different reasons, including when the system is not able to be used temporarily or if the Pre-Collision System has been disabled. The light will flash fast if the system is operating.
In Conclusion
Toyota's Pre-Collision System was put into place to help protect you, your passengers, and others on the road. If you notice it is not working properly, have it looked at right away. This system can be a real lifesaver when you are on the highway, and it should never be taken for granted.